Season - 2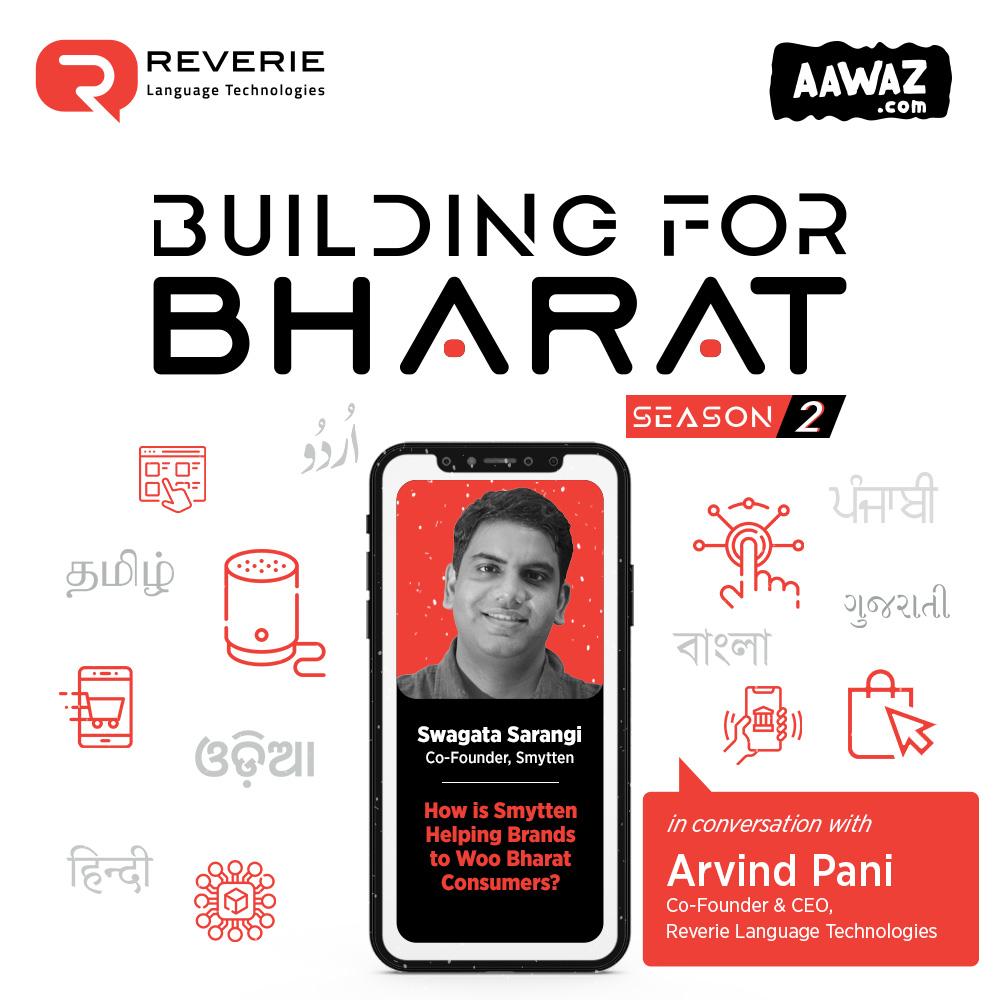 How is Smytten Helping Brands to Woo Bharat Consumers? - Swagata Sarangi, Co-Founder, Smytten

[ 32:36 ]
Smytten is India's largest tech-enabled D2C product delivery and trial platform which is revolutionizing the pre-purchase experience for consumers across Bharat. It hosts over 900 brands, has presence across 10 plus lifestyle categories and is helping brands to expand its outreach into the hinterlands of India. From charting the evolution of E-tailing to revealing novel insights into consumer behaviour, Swagata Sarangi, Co-Founder of Smytten bares it all in this revealing conversation with host Arvind Pani, CEO & Co-Founder of Reverie Language Technologies.
What Will it Take To Make Bharat an Innovation Hub? -
Dr. Chintan Vaishnav, Mission Director for Atal Innovation Mission (AIM)

[ 49:30 ]
In the second part of our Anniversary special and Independence Day special series, Dr. Chintan Vaishnav, Mission Director for Atal Innovation Mission (AIM) which is a flagship initiative of the government of India under the auspices of NITI Aayog, shares with Arvind Pani, Co-Founder & CEO, Reverie Language Technologies spectacular and unparalleled insights on decoding the formula for 'Building for Bharat' and what it will take to make Bharat among the top innovation hubs.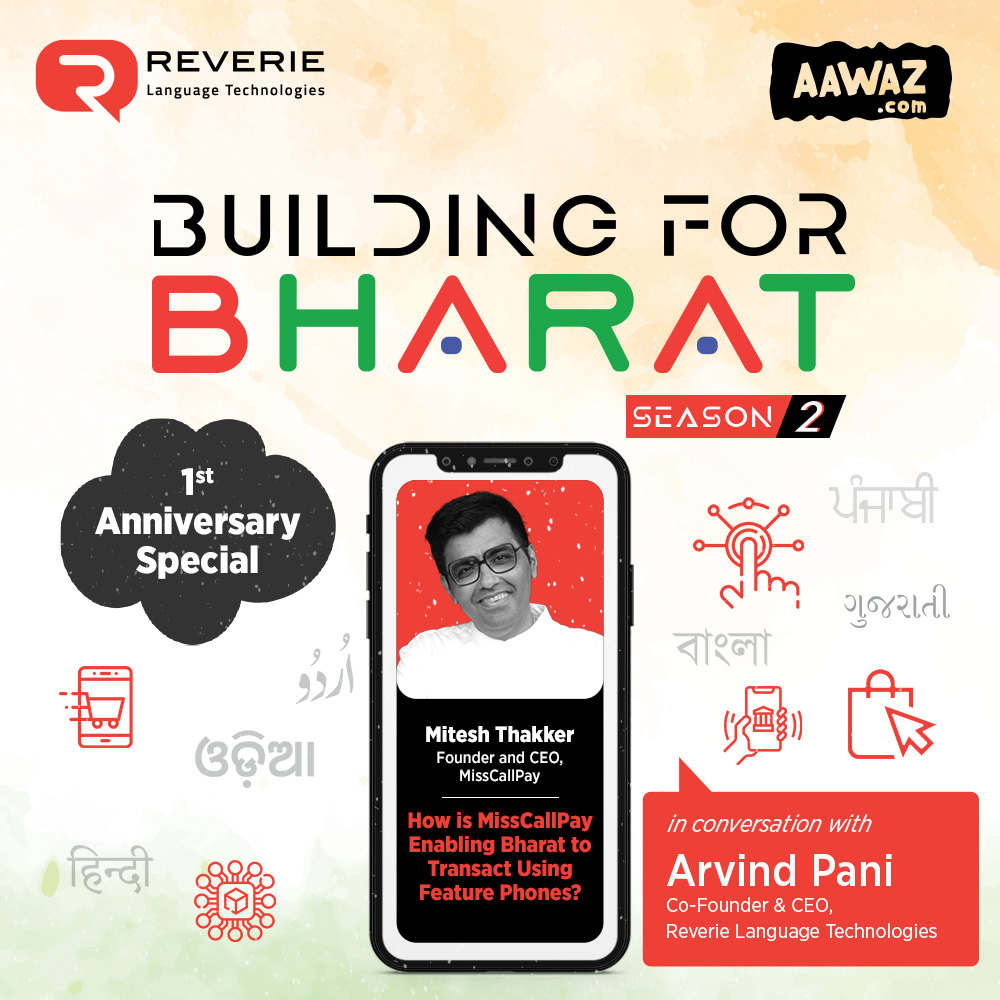 How is MissCallPay Enabling Bharat to Transact Using Feature Phones?

[ 32:21 ]
In our first anniversary special series, we present the story of fintech startup MissCallPay which is enabling Bharat users to do cashless transactions securely over a missed call, through their feature phones! Harnessing UPI123Pay, MissCallPay which is headquartered in Gujarat, aims to revolutionize the payment ecosystem and is soon set to launch commercially this month. Mitesh Thakker, Founder and CEO, MissCallPay shares his long, challenging and inspiring journey with our host, Arvind Pani, Co-Founder and CEO Reverie Language Technologies.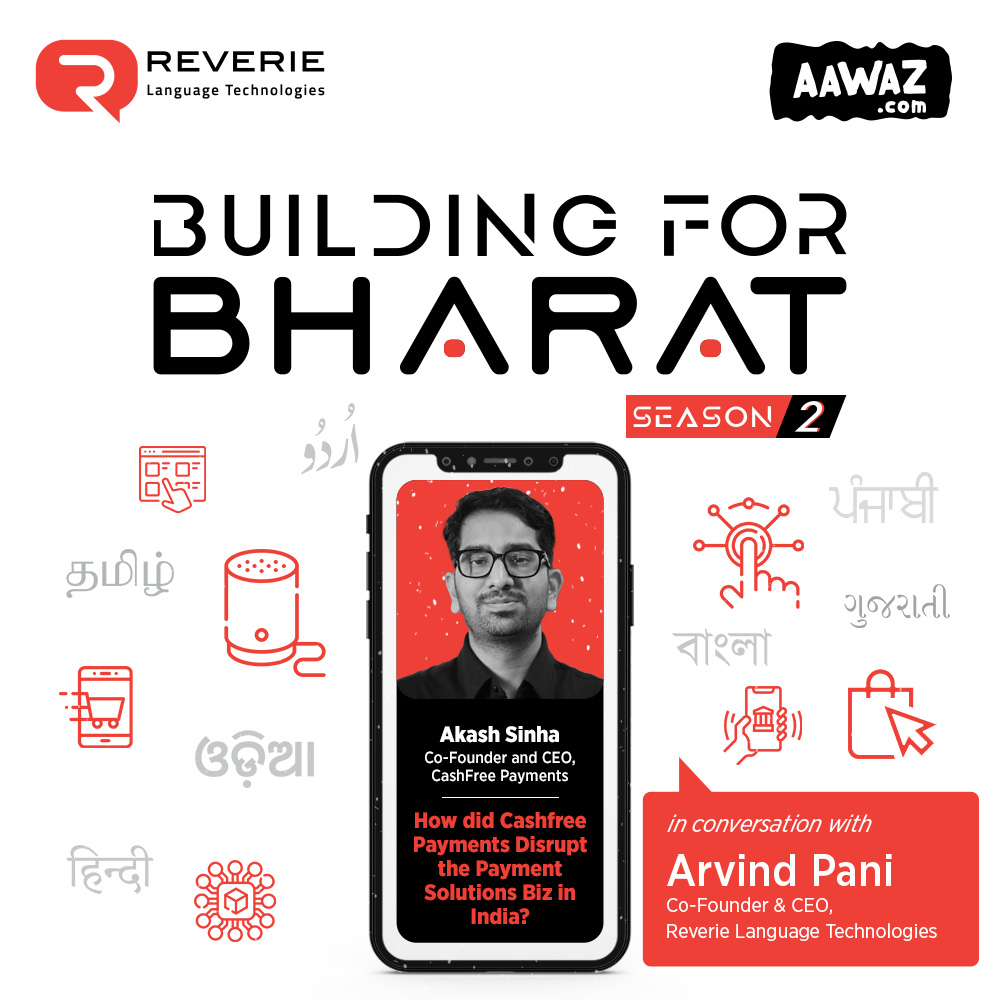 How did Cashfree Payments Disrupt the Payment Solutions Biz in India?

[ 26:09 ]
Aiming to grow 5X by 2025, Cashfree Payments has come a long way from beginning in 2016, as a payments solution provider for offline restaurants in the city, digitising Cash on Delivery (COD), to helping businesses build products over a comprehensive and robust cashfree platform. It now enables 1,00,000+ growing businesses in India and across the globe to collect payments, make payouts and manage international payments.

How did Cashfree disrupt the payment solutions space in India? How did it grow to be profitable in 2 years since its evolution as a payment gateway and has managed to stay profitable since the last four financial years with a growth of over 90-100% y-o-y? What key communication and digital strategies were tailored by Cashfree for tapping into Bharat?

Listen to Akash Sinha, Co-Founder and CEO of CashFree Payments in conversation with Arvind Pani, Co-founder & CEO, Reverie Language Technologies, as they discuss just what it takes to Build for Bharat.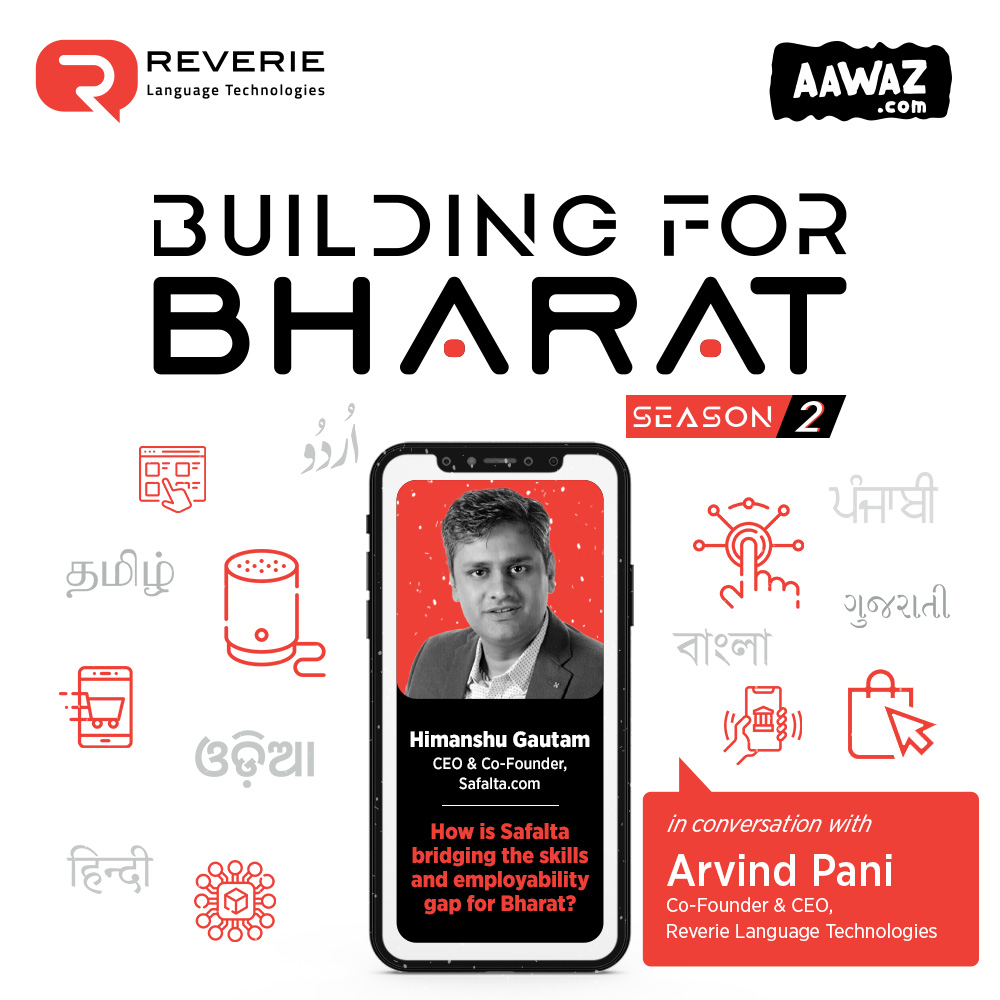 How is Safalta bridging the skills and employability gap for Bharat.

[ 42:46 ]
Safalta.com, an innovative edtech and jobtech platform, began with a niche and novel objective of helping small town and rural students to crack government tests, in 2019. With the covid pandemic, however, Safalta was forced to shut its 160 centres across India and go completely digital. It proved to be a boon. Today it has a registered user base of over a million students, has clocked 800,000 mobile app downloads, and is enabling 100 million youth of an Untapped India to seek education and skills leading to employment. Listen to Himanshu Gautam, CEO & Co-Founder, Safalta.com share his remarkable journey with our host, Arvind Pani, Co-founder & CEO, Reverie Language Technologies.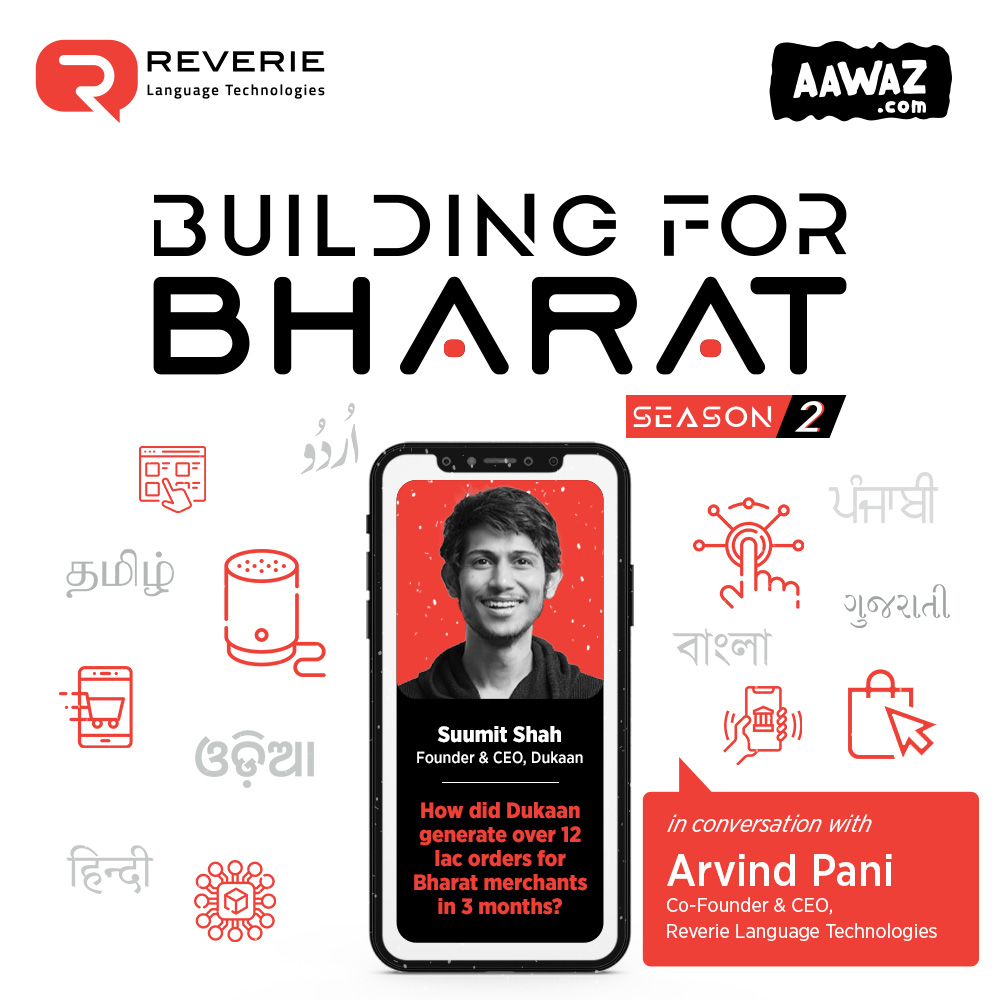 How did Dukaan generate over 12 lac orders for Bharat merchants in 3 months? - Suumit Shah, Founder & CEO, Dukaan

[ 28:29 ]
Imagine launching an app during the lockdown, on a whim, and for it to have generated 12 lac orders in the first three months itself! Well, that's the story of Dukaan. A DIY app which enabled small businesses across Bharat to set up an e-commerce store through their smartphones, within a few minutes, and do better business than usual. Within a span of two years, Dukaan got 50 million products listed on the platform, ranging from electronic items to wedding services. 70% of its stores are from beyond the top 6 cities. Apart from helping startups, Dukaan also has FMCG brands like Nivea amplifying its distribution through the platform. What is the secret formula which helped Dukaan connect with its users, instantly? What does it take to build and design an app catering to the needs of users across the country? Listen to Suumit Shah, Founder & CEO Dukaan, in conversation with Arvind Pani, Co-founder & CEO, Reverie Language Technologies, as they discuss just what it takes to Build for Bharat.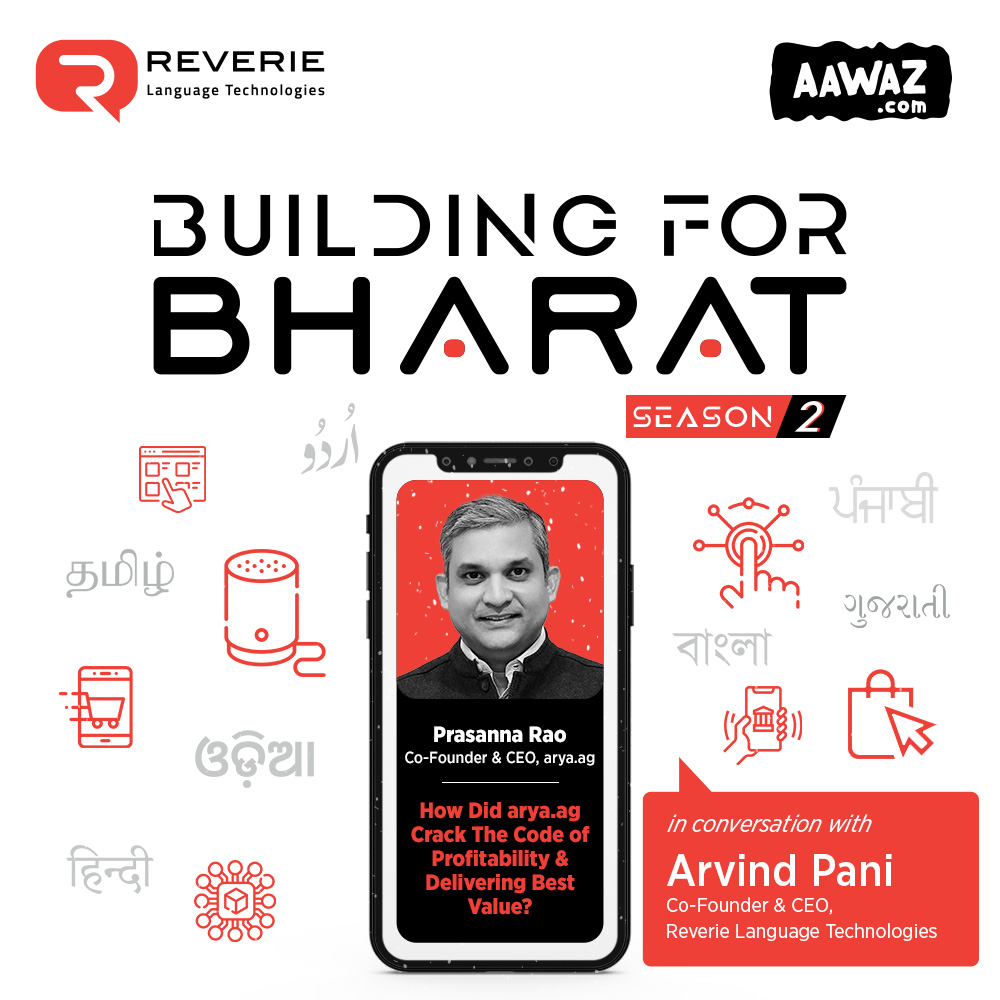 How did Arya.ag crack the code of Profitability & Delivering Best Value?

[ 35:12 ]
Arya.ag is among the fastest growing agritech companies and arguably the only profitable startup in the space. How did this post-harvest service integrator crack the code of profitability in a sector wrought with risks, while also delivering the best value at every juncture? What are the factors that need to be kept in mind to build a successful and scalable business model for Bharat? What are the key UI/UX customizations which helped
arya.ag
ensure a joyful and transparent user experience for the farmers? Listen to
Prasanna Rao, Co-Founder & CEO, arya.ag
in conversation with
Arvind Pani, Co-Founder and CEO, Reverie Language Technologies
.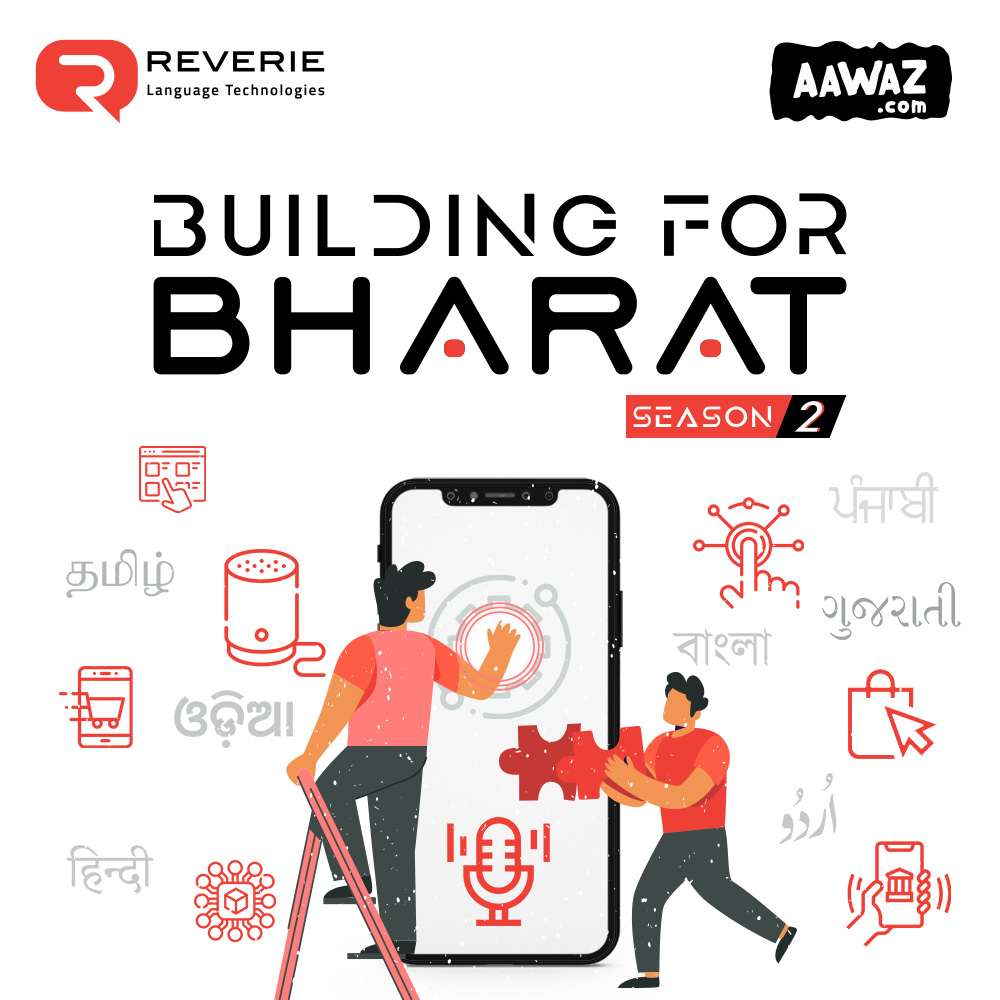 Empowering the digital payment system in Bharat' - Paytm Money

[ 35:31 ]
How did Paytm Money disrupt India's direct MF and discount broking space? How did it gain the trust of over 7 million users from across the farthest corners of the country? What are the various user personas of the Bharat investor? How is Paytm Money tackling the challenge of abysmal financial awareness across demographics? What does the future of investing look like for Bharat?

Listen to Varun Sridhar, CEO of Paytm Money, in conversation with Arvind Pani, Co-Founder, and CEO, Reverie Language Technologies.
Season - 1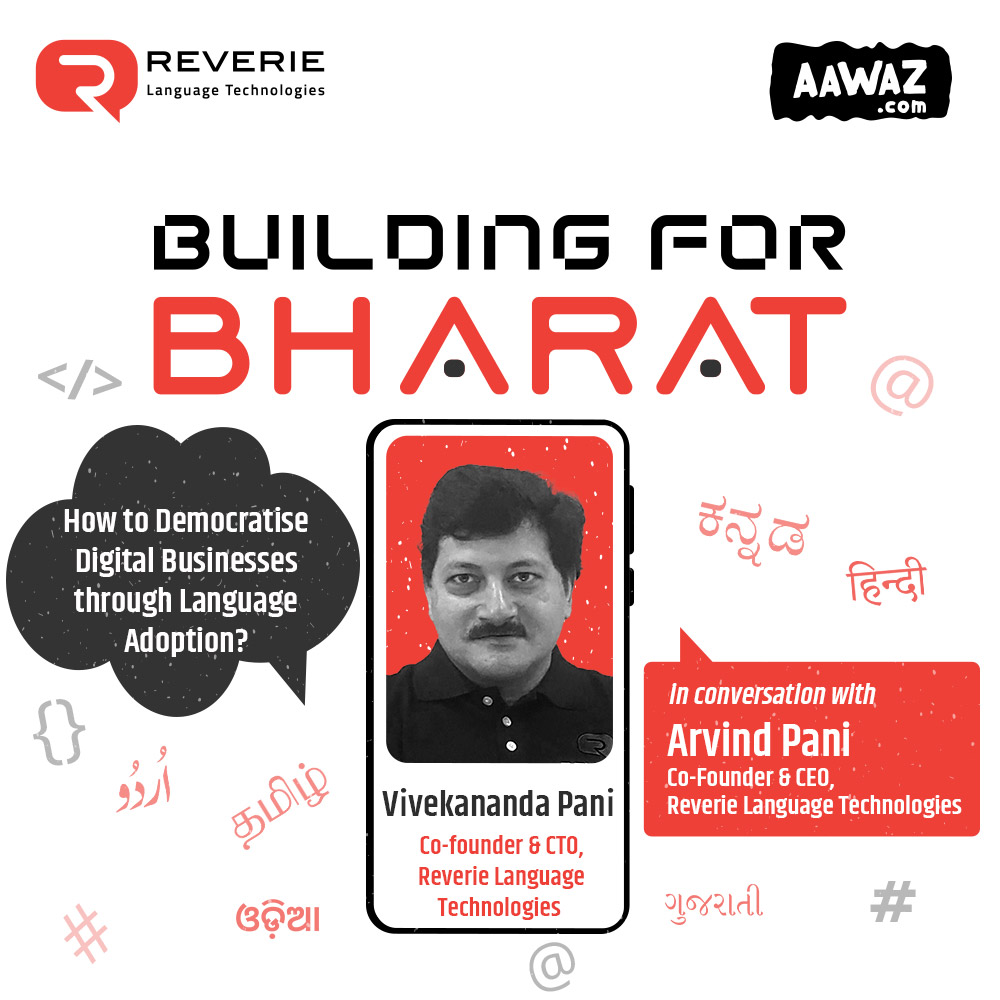 How to Democratise Digital Businesses Through Language Adoption?

[38:54]
How have businesses perceived the digital-readiness of a typical Bharat consumer? What are some outrageous myths assumed by marketers when targeting the regional user? How can enterprises ensure brand loyalty and trust by serving customers in their language of preference? How has digital adoption enhanced native customer engagement? Why is language equality important and is it possible to eliminate the dependency on English altogether? Is there a way to shorten the adoption curve enabling Bharat users transition from assisted to self-serve mode? Going forward, what are the key language adoption and technology trends which are likely to pave the future developments for a digitally inclusive Bharat?

In this special Season 1 wrap-up episode, Arvind Pani, Co-founder & CEO of Reverie Language Technologies and the show's host, is joined by his partner, Vivekananda Pani, Co-founder & CTO, Reverie Language Technologies, as they minutely dissect key highlights of Arvind's conversations with some of the most prominent voices in the Indian BFSI space.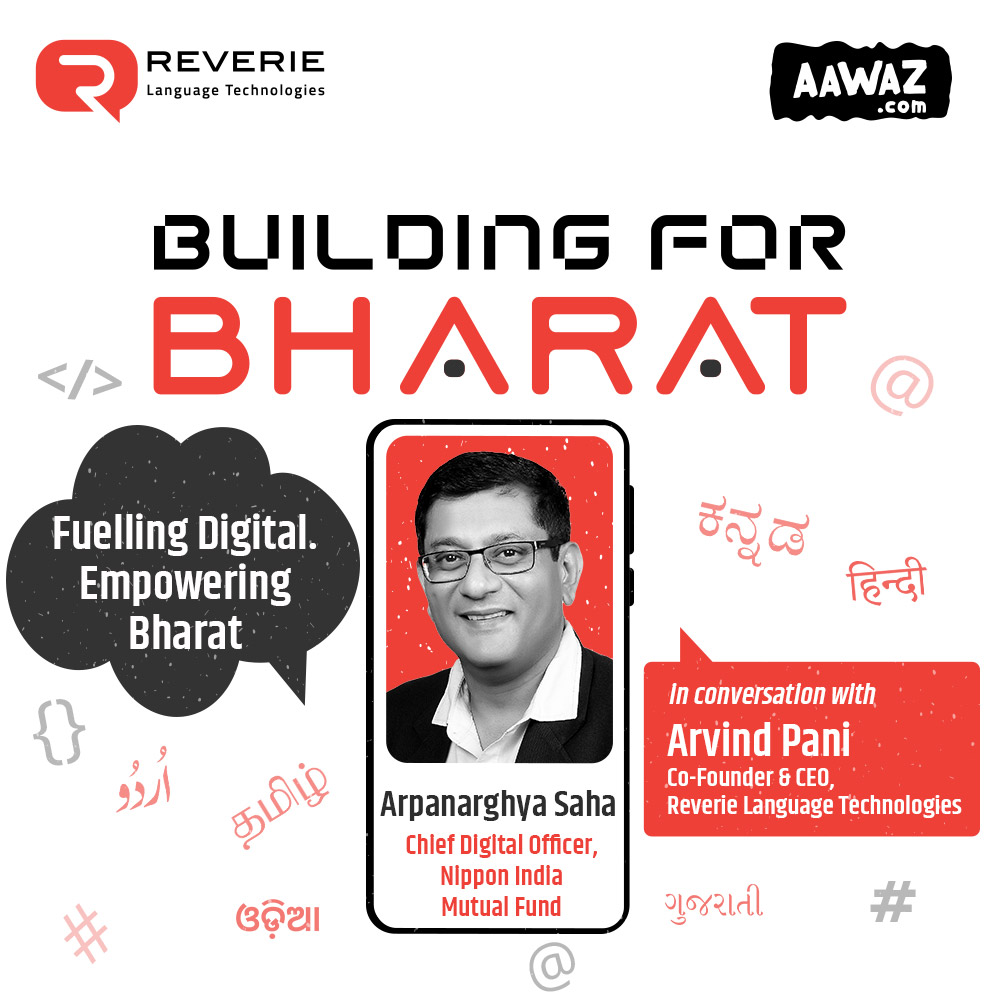 Fuelling Digital. Empowering Bharat - Arpanarghya Saha, Chief Digital Officer, Nippon India Mutual Fund

[ 27:04]
One purchase every 10 seconds. 20 searches per minute. 90% paperless transactions.

Arpanarghya Saha, Chief Digital Officer, Nippon India Mutual Fund (NIMF) shares his first-hand experience on how the digital transformation program at NIMF focused on building a digital first approach, uncomplicating products for every customer, focusing on voice and language inclusion and establishing a digital centre of excellence, led NIMF to break new ground in the Indian mutual fund space.
Insuring A Better Tomorrow

[ 30:44]
Why is insurance penetration in India among the lowest in the world and how do we move the needle? What factors are set to boost this sunrise sector which is poised to grow over 10% in the next 3-5 years? What is the role of digital in this new era of insurance in Bharat? How are the dynamics of Trust established, why is it so crucial and how has Aviva India, ranked as among the most trusted brands in the life insurance space, drastically enhanced customer satisfaction in the last 5-6 years?
Amit Malik, CEO & Managing Director at Aviva India shares his insights in this engaging conversation with host Arvind Pani, Co-Founder and CEO, Reverie Language Technologies.
Humanising Insurance for Bharat

[ 29:14]
With the merger of Bharti AXA General Insurance on September 8th 2021, ICICI Lombard GIC consolidated its market leadership position in the non-life insurance sector, being among the top 3 players in the space.
On this episode, Sanjay Datta, Chief – Underwriting, Reinsurance, Claims & Actuarial, ICICI Lombard General Insurance Company, who was part of the start-up team at ICICI Lombard in 2001 and grew it to its current standing, joins our host Arvind Pani, Co-Founder & CEO, Reverie Language Technologies as they discuss varied facets of insurance within the India context, revelatory insights into user behaviour & perception and the role of technology and digital in servicing users in the heartlands of Bharat.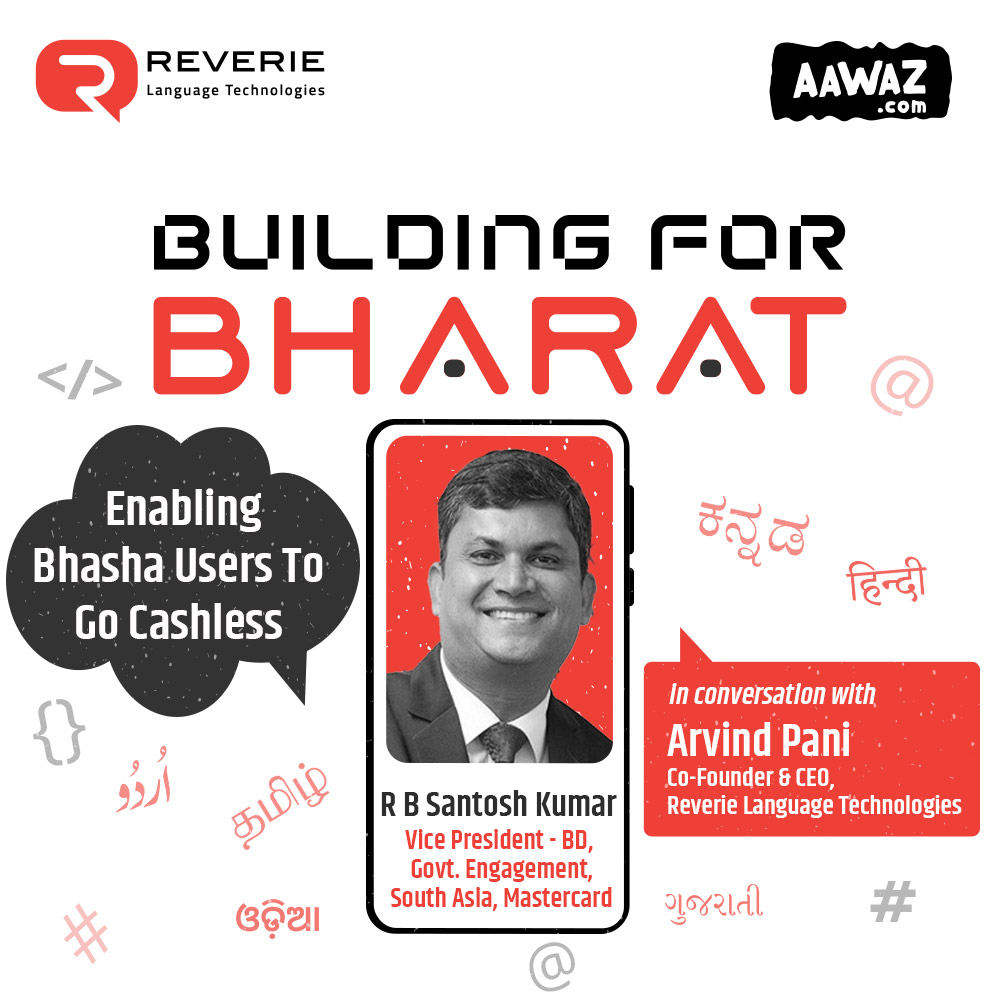 Enabling Bhasha Users to Go Cashless

[ 23:11 ]
Mastercard has been working towards its vision for a cashless world and a cashless Indian economy much before the current times. What are some consistent strategies it deployed to catalyse the adoption of digital or cashless transactions among Bhasha users? What are the key communication strategies Mastercard deployed at ground level to positively influence consumer behavior and spread awareness? R B Santosh Kumar, Vice President, Business Development, Government Engagement at Mastercard, South Asia, shares his expert insights as he joins our show's host, Arvind Pani, Co-Founder & CEO, Reverie Language Technologies on this latest episode of Building for Bharat. Santosh has spearheaded Mastercard's strategic initiatives towards empowering MSMEs and kirana stores and digitising value chains like agriculture through the Mastercard Farmer Network (MFN) platform.
Sowing Trust, Reaping Rewards [Part 2] - Shantanu Rege, Mahindra Rural Housing Finance

[ 28:00 ]
What are the needs and behaviours of rural customers when it comes to taking on loans? How do these new internet users navigate digital platforms? How can 'Cautious Kamalas' move to becoming 'Progressive Pradhans' within this ecosystem? And, how did Mahindra Rural Housing Finance crack the code, maintaining profitability while creating social impact within the rural lending sector, which is seen as risky and unorganized? What can businesses aspiring to cater to new and untapped rural marketplaces in India do better?

In the 2nd part of the 'Sowing Trust, Reaping Rewards' episode, Shantanu Rege, Chief Operating Officer, Mahindra Rural Housing Finance Ltd. (MRHFL), answers these questions and more during this heart-to-heart talk with Arvind Pani, Co-Founder, Reverie Language Technologies and the host of Building for Bharat.
Sowing Trust, Reaping Rewards [Part 1] - Shantanu Rege, Mahindra Rural Housing Finance

[ 22:00 ]
Rural markets are usually cynically characterised as 'graveyards for lenders' owing to the uncertainties of repayment which centre around harvest cycles, and the lack of established markers to assess creditworthiness of rural customers. But one firm has broken stereotypes and has been able to 'RISE' to the challenge by catering to 65% of Indians who live in non-urban locations but aspire to own a 'pucca makaan', just like everybody else! Hear from Shantanu Rege, Chief Operating Officer of Mahindra Rural Housing Finance as he talks about helping over 1 million rural families secure a roof over their heads, all while becoming the 4th most profitable enterprise within the global Mahindra Group family of companies.

On this two-part episode of Building for Bharat, our guest shares his expert insights on just what it takes to build trust amongst rural customers. Our host Arvind Pani, Co-Founder & CEO of Reverie Language Technologies and Shantanu Rege have a heart-to-heart chat on how an NBFC can strive for profitability in an unfamiliar market with a whole host of challenges regarding tech adoption, language usage, trust in banking, and lack of documentation. And share their vision for a more equitable universe where financial inclusion and opportunities are extended to all Indians, regardless of geography.
Bharat Banking - Dil Se - Ratan Kesh, Axis Bank

[ 30:26 ]
"If FMCG companies can deliver sachets of their products to the remotest places, what stops banks or for that matter any other business from doing so?" - asks Ratan Kesh, EVP and Head - Retail Operations and Service at Axis Bank.

Axis Bank, one of the front runners of the digital transformation wave in the Indian FinTech space offers customers an award-winning online banking experience, and the brand is one of the earliest adopters of Voice Technology. Its omni-channel approach to customer servicing, with active local-language support, has led to the bank expanding its user base. And since the pandemic, the brand has only accelerated its growth online, with 73% of its Axis Bank customers going digital, today.

In this episode, our guest Mr.Ratan Kesh is in conversation with show host, Mr. Arvind Pani of Reverie. Mr. Kesh speaks of how designing mobile-first digital journeys to engage with customers proved to be a game changer for Axis Bank. He talks about how they go about creating intuitive navigation on their award-winning app and shares strategies that enabled them to reduce the IVR journey time by 70% for greater customer satisfaction. He also talks about the importance of weaving in native languages into the mobile banking experience, and how crucial language support is to include more Bharat users into the fold, in this era of phygital banking.

Making Insurance More Inclusive - Dipu KV, Bajaj Allianz

[ 35:04 ]
75 years after Independence, yet, many of our brands, products, services, and spaces are not built with Bharat users in mind. Imagine buying an online insurance policy, with all the information presented to you in a foreign language? Imagine receiving important updates from your provider in a language you don't prefer, on a platform you are new to!

Well, that's exactly what millions of Indian users who navigate the world in their mother tongue go through when they interface with businesses, exclusively built with English speakers in mind. However, things are changing in the Indian digitalscape, thanks to brands like Bajaj Allianz GIC. Its crop insurance app Farmitra – which provides customised insurance solutions to its insured farmers across the country in their preferred language - won the EFMA-Accenture Global Award, last year.

On this launch episode of Building for Bharat, Mr. Arvind Pani is in conversation with Dipu KV, President & Head of Operations and Customer Service at Bajaj Allianz General Insurance Company.

Dipu KV has spearheaded a revolution by achieving an incredible 80% digital servicing rate across Bajaj Allianz, with a vision for change that predates the pandemic. Hear from this industry leader on what he thinks of Voice Technology and learn more about his idea for a humanistic AI-driven approach to serving customers. Get insights on delivering more personalized, language-aware experiences in your sector, to create true customer delight.
We appreciate your thoughts!