Facts on Website Localisation
Website Localisation is no longer a trend that a few brands choose to follow but has turned out to be the need of the hour, so-and-so we have demands from netizens requesting to ''serve in my language''.
Statistics say that 90% of Indians prefer to read the information in their Mother Tongue and trust brands more when serviced in their native languages.
"41% of prominent brands have at least one localised page."
How can Website Localisation help you?

Increased
Web Traffic


20%

increase
in conversion rates

6X

increase in engagement with Geo-targeted content
Case Study:
Working with India's leading automobile manufacturing company, Reverie helped them achieve website localisation in the Hindi Language using - Anuvadak. The Result - The platform was able to see a 10% increase in Website Traffic in just three months of its deployment.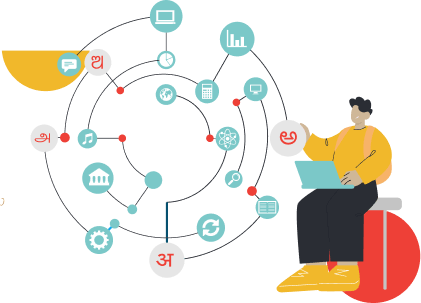 Localisation may come with its benefits, but it also comes
with its challenges:

Extensive time and resource investment in managing & publishing a multilingual
website,

The need to use multiple infrastructures for managing content,

Difficulties in post-launch - edit, and proofreading of translation,

Data breach - information shared may get into the wrong hands,

Inability to deploy multilingual websites that are search engine friendly,

SEO incompatibility of localised content,
However, there is no need to worry; we are Language Localisation Pros and have been doing this for more than a decade.
Anuvadak, a product of Reverie, is the tool of choice that we use to publish, manage, and optimise multilingual websites on a single domain.
What makes Anuvadak the platform of Choice?
Anuvadak supports website localisation which;

reduces costs
involved

displays results with a quick
turn-around-time

ensures data security, where
all sensitive information is
saved & stored with the client

is achieved through
minimal human efforts
(to launch and scale
multilingual websites)

reduces resource
requirements (IT &
translation resources)

eliminates the need for
maintaining multiple
infrastructures for content
management

comes with an easy-to-use
dashboard for effortless
proofreading & editing

is SEO friendly - providing
custom-tailored content
that is localised to fit search
engine requirements

provides customised
URLs that benefit a
strong SEO strategy.
We know that all this can be overwhelming to comprehend and manage simultaneously. But why worry;
Just leave it to the Pros!