Written by
Radhika Madhavan
Updated Date
Dec 27, 2022
7 min read
Indian language internet users – a demographic estimated to cross 530 million in 2021 – are hungry for digital content in their own language. Traditionally, the Indian internet has primarily been in English, but these platforms have to keep up to win the attention of new Indian language users.
Freelance translators are faced with a strange dilemma. On one hand, their skills have never been in such demand. On the other, finding translation work remains challenging and unstructured.
Prabandhak For Indian Language Translators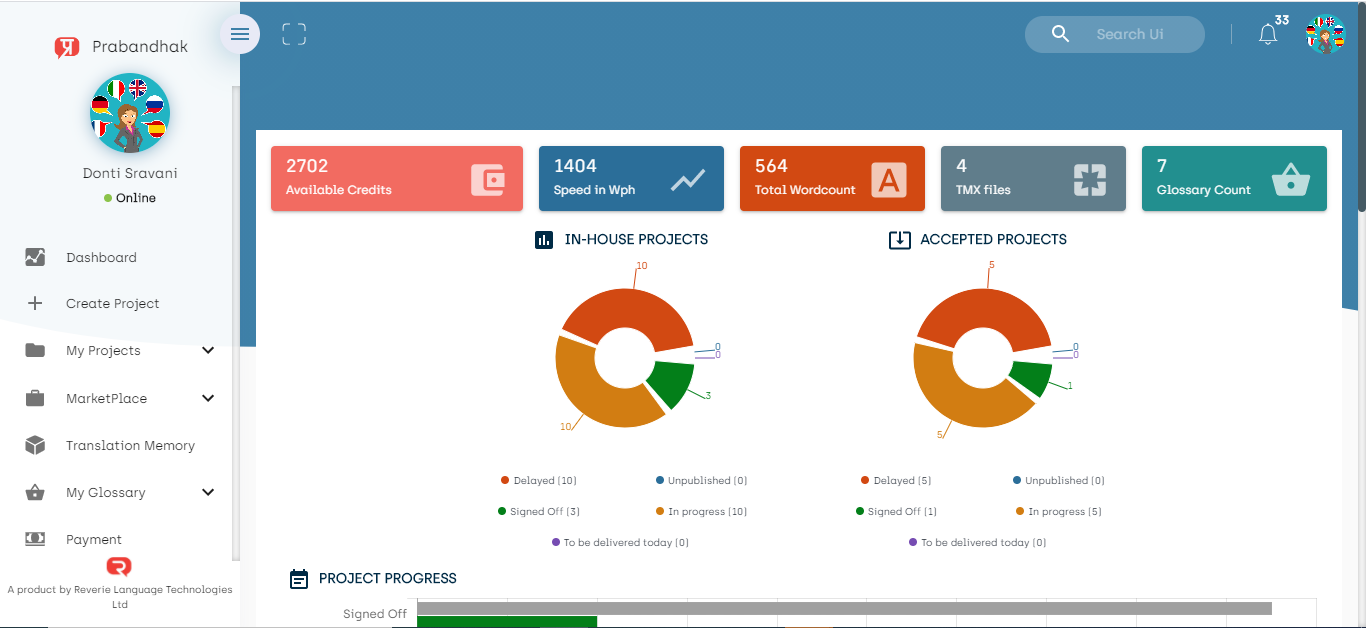 Although AI powered automated translation can help fill these gaps, the value and impact of skilled translation and human attention cannot be replaced. An experienced translator will instinctively know what phrases and tone of language will carry the most weight and communicate with users, and this intuition is unmatchable. 
The skilled translator is sensitive to the needs of both the audience and the platform, and it is their handling of this skill that makes translation truly an art.
With all this opportunity out there ripe for the taking, is right up the alley of any translator. The question is, how can translators adequately put their skills to work on content for platforms?
Enter Prabandhak, Reverie's AI powered translation management hub, built to help translators do more work, paving the way for more localized Indian language content online.
Prabandhak's Features – An Overview
Prabandhak comes equipped with a host of cutting edge AI powered Indian language localization tools as well as platform level features that make it easier for translators to work on their projects. These cover various aspects of the translation journey, improving the speed, accuracy, and quality of translations.
All in all, these features also translate into a distinct first-to-market advantage for freelancers, giving an edge over competitors. They can also help build one's reputation as a dependable and skilled translator, collaborating with repeat clients. Prabandhak's features are also ideal for a budding translator to hone their skills and make an entry into the world of professional Indian language translation.
Here is an overview of these features, with their 
Neural Machine Translation Based CAT Tool
Prabandhak employs Reverie's powerful neural machine translation (NMT) engine to provide translation suggestions, suggestions that translators can use and build upon for their own personalized translations. 
Reverie's NMT engine uses language models with vast Indian language datasets to provide accurate, context sensitive results. These results save translators precious time and effort by providing a foundation for the translated content which can be improved and reworked.
NMT is a versatile and important tool for any Indian language translator, as it can do much of the heavy lifting where minimal human intervention is required for translation, for example in technical scientific descriptions, or lists of items.
Translation Memory For Segments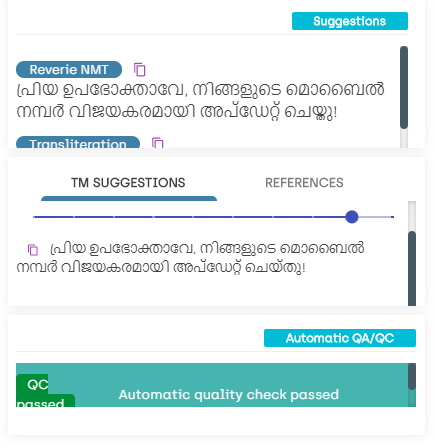 Prabandhak also makes use of translation memory, where segments of text strings are marked as distinct units, translated, and then stored in the platform so that any other occurrences in the source text have a handy reference. These strings can range from short phrases of a few words, to entire paragraphs of text featuring multiple sentences.
Translation memory saves the translator the task of having to tackle each instance of the content individually, again and again. It also offers a degree of consistency in voice and tone to the translation.
For example, a translator working with product descriptions can add translated versions of recurring items like short category names, long product disclaimers, and lists of technical specifications, saving them the effort of translating each of these strings from scratch each time.
Industry Specific Glossaries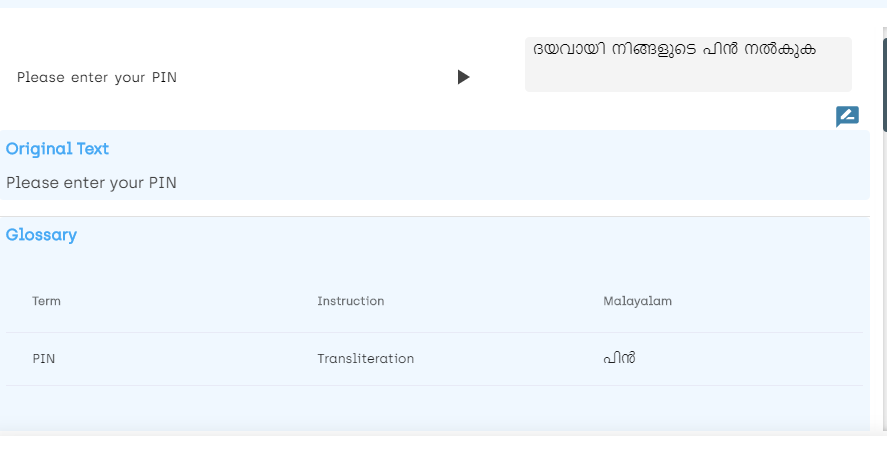 Technology is evolving rapidly, and Indian languages are still adapting to it. As a result, many English terms like upload, notification, font, etc do not have commonly used Indian language translations. Prabandhak comes equipped with industry specific glossaries to ensure that translators have an up to date resource on these technical terms for reference. The same term can have different word choices based on industry, and the glossaries reflect this by offering industry specific variants.
Indian Language Transliteration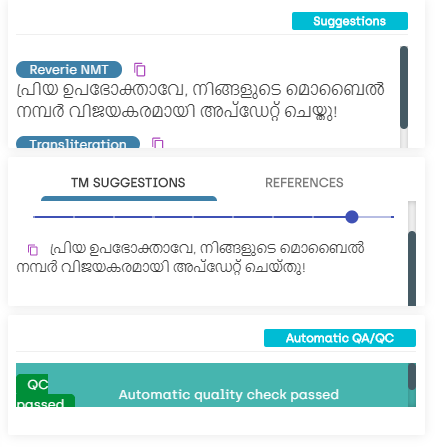 Proper nouns, such as addresses and names (of both people and institutions), can be marked, allowing Reverie's transliteration engine to convert these strings into their Indic script equivalents. A restaurant named Chicken House should be transliterated into Tamil as சிக்கன் ஹவுஸ் (the English name written in the Tamil script) and not translated as கோழி வீடு (kozhi veedu, a literal translation).
Indic Language Spellchecker
Spell checkers are also included in the platform, ensuring that no stray typos or spelling errors in the translated content escape the notice of Prabandhak. Dictionaries in English and 11 Indian languages help disambiguate and elaborate on tricky, challenging words in either the source language or the target language. 
For example, if an English source text features the word polarization and a Kannada language translator wishes to know its meaning in Kannada, the dictionary entry will display ಧ್ರುವೀಕರಣ (dhruvikarana).
Indian Language Typing

Indian language typing is enabled by Swalekh Web, Reverie's browser based Indic input tool. Swalekh Web allows translators to rapidly type in their preferred Indian language, Since it comes integrated with Prabandhak's interface, translators can immediately type swiftly and accurately in the target language.
Intuitive UI
In addition to its language technology tools, Prabandhak's interface and layout are extremely intuitive to use. There is minimal hand holding when it comes to learning how to use the platform as a translator, and by extension, less time wasted in trying to maneuver, navigate, and utilize the platform. 
The dashboard is straightforward, and the translation marketplace itself, the process of searching for and applying for work, as well as the actual translation flow can all be handled by a translator without needing specialized technical training, or coding knowledge.
Automated Compiling & Recompiling
Once a translation project is complete, Prabandhak does the work of compiling and recompiling the translated strings to form a new document in the same format as the original source language document. Automation cuts out what is otherwise a tedious task that has more to do with technology than translation.
Now compiled, the newly translated document is ready to be sent back to the client for their perusal and evaluation. Since this final step is swiftly handled by the platform's backend, results can directly be pushed to clients, and quality checks logged and entered shortly after receiving the translated document.
Automated QA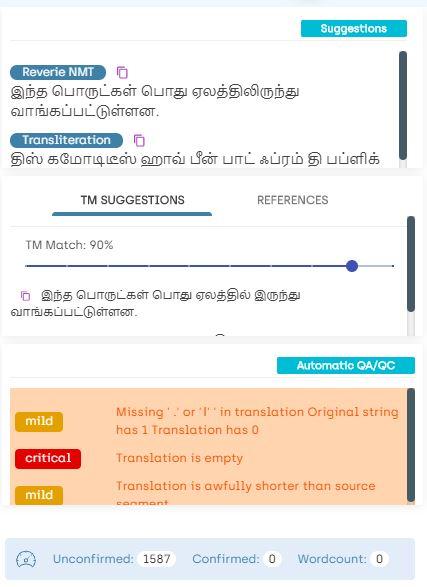 Prabandhak boasts of a robust, inbuilt Indic QA checker for punctuations, factual data, tags, spaces and much more, ensuring that the translator need not devote time into basic sanity checks. 
 
Additionally where existing QA tools are built for European languages and produce false positives incase of Indian languages, Prabandhak's QA check is designed to work accurately for every Indian language.
 
For instance, apostrophes in source languages need not be included in any target Indian language translation. Our Indic spell checker is aware of this difference and acts accordingly to create an accurate output.
 
Unified Translation Marketplace
 


Prabandhak functions as a unified translation marketplace, a one stop shop for freelance translators looking to find translation projects in their preferred language and specialized domains. Prabandhak supports 11 Indian languages.
 
Whenever a company has a requirement for translated content in any of these 11 supported languages, they can post a listing on the Prabandhak marketplace, and translators skilled in the required language can apply to work on the project.
 
This workflow is advantageous for freelancers because any requirements posted by companies directly reach skilled professionals looking for work, with no intermediary party or middleman.
 
By functioning as a platform where companies and their requirements can directly interact with translators and their expertise, Prabandhak allows both parties to get more work done. Translators no longer need to search for work on multiple platforms, and as a result, they can both find and do more work.
 
 
Prabandhak – AI-Powered Translation Management Hub for Indian-Language Translators
Prabandhak, more than merely a platform that users interface, is an active participant in the translation process, by harnessing the considerable power of AI based Indian language technology and automation. 
 
By working smart and working better, Prabandhak also allows translators to scale their work up, taking on more projects. Naturally, this also has direct consequences for one's bottom line – more work translates to more income.
 
In fact, using Prabandhak can make translators 4 times as productive, and its automation based processes can save up to 80% of one's manual effort! 
 
If you are an Indian-language translator looking to gain a competitive edge and boost your productivity, Prabandhak is the platform for you. 
 
Request a Demo, and see what Prabandhak can do for your translation career!