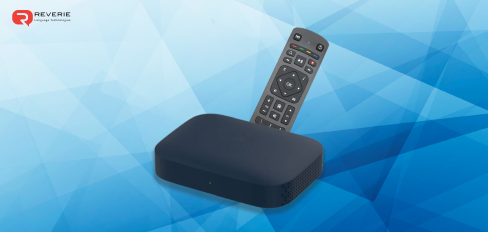 Facilitating Integration of Voice & Text Features for a Top-Rated Set-top Box in Eleven Indian Languages.
Challenge:
The language barrier in India hindered the expansion of the market and sales of set-top boxes, while language-related limitations negatively impacted user engagement and experience on the device.
Solution:
ASR/STT on the Set-top Box enables users to control TV channels and apps with voice commands in 11 official Indic languages, eliminating the need for a keypad.
The Set-top Box's Text-to-Speech technology responds to customers through speech synthesis, supporting several Indian languages.
The Set-top Box's AI-powered NLU supports various Indian languages and aims to eliminate the need for constant training by understanding synonymous, conceptual, and contextual relationships.

The Indic typing tool Swalekh is a virtual keyboard, that facilitates customer onboarding and program selection in multiple Indian languages, including English-Live, with ongoing support for more.
Outcome:
By offering the client's set-top box with 11 official Indian languages (Hindi, Bengali, Assamese, Gujarati, Telugu, Marathi, Tamil, Punjabi, Kannada, Odia, and Malayalam), the market reach was expanded nationwide and customer experience was improved, resulting in an overall CSAT score of 4.7/5 and increased usage growth over a 15-month period.